Attending Anesthesiology 2022? Below is a list of the WLMs activities, and please be sure to stop by our booth in the exhibit hall.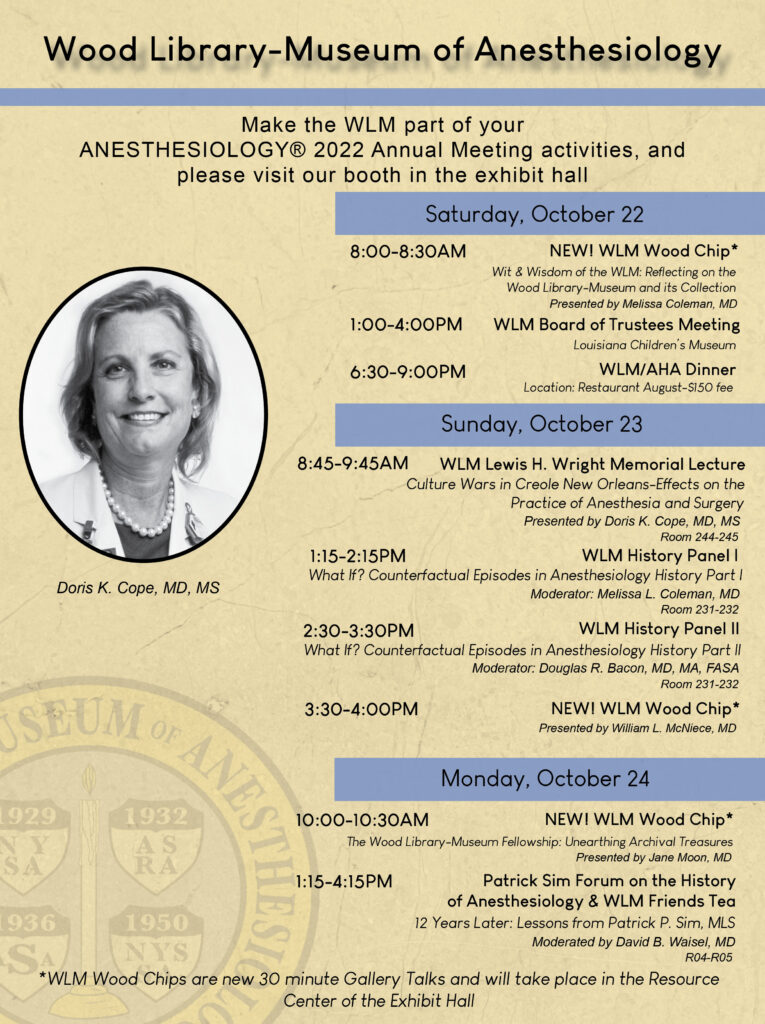 The WLM/AHA Dinner will be held at the Restaurant August. If you would like to attend, the $150 fee can be paid HERE and please make sure to click "WLM-WLM/AHA Dinner". Each person will need to be registered separately, and registration for the dinner ends Monday, October 17th. 
The WLM Board of Trustees Meeting will be held at the Louisiana Children's Museum. For more information about LCM, explore their website HERE.  
A NEW INTERACTIVE TIMELINE:
ANESTHESIA RISING TO THE OCCASION DURING PIVOTAL INFECTIOUS DISEASE OUTBREAKS
Anesthesiologists have provided frontline support throughout the COVID-19 pandemic, applying their  skills to develop creative medical interventions. Wood Library-Museum resident representatives Drs. Jehan Momin, M.D., and Mark Wise, D.O., developed THIS online exhibition featuring the contributions of anesthesia and anesthesiologists during pivotal moments in history. Since the advent of anesthesia, physicians have been called upon to innovate during historically significant disease outbreaks. These extraordinary discoveries were born of necessity during dire periods and pushed the practice of medicine forward. 
Did you miss the Lewis H. Wright Lecture? Find the slides here.