Eugene P. Sinclair, M.D.
2005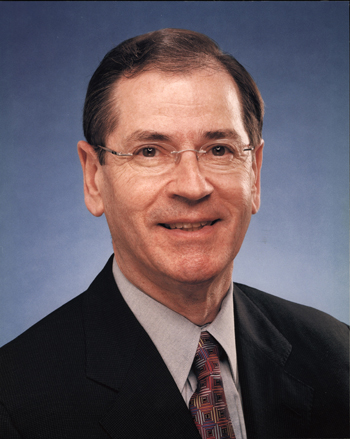 EUGENE P. SINCLAIR, M.D.
Professional Appointments:
Chief of Anesthesia Service, Orthopaedic Hospital of Wisconsin, Milwaukee, Wisconsin.
ASA Involvements:
President Elect (2004); Speaker of the House of Delegates (2000-02); Vice Speaker (1994-99);
Director (1987-93); Alternate Director (1984-86); Alternate Delegate (2004-present), AMA
Section Council on Anesthesiology; Member, Committees on Ambulatory Surgical Care,
Bylaws, and Quality Improvement and Practice Management, and several Task Forces studying
Practice Parameters, Practice Management, and Exclusive Contracts; ASA Representative, Joint
Commission on Accreditation of Healthcare Organizations Ambulatory Health Care PTAC.
Affiliations:
President (1974-75), Milwaukee Society of Anesthesiologists; Member, Society for Ambulatory
Anesthesia, American Society of Regional Anesthesia and Pain Medicine, International
Anesthesia Research Society, Wisconsin Society of Anesthesiologists, Milwaukee Society of
Anesthesiologists, State Medical Society of Wisconsin, Milwaukee County Medical Society,
American Institute of Parliamentarians, and National Association of Parliamentarians.
Education & Honors:
M.D., Marquette University School of Medicine; Residency, Milwaukee County General
Hospital, Milwaukee, Wisconsin, and Veterans' Administration Hospital, Wood, Wisconsin;
Diplomate, American Board of Anesthesiology; Fellow, American College of Anesthesiologists.
ASA Newsletter. 2005;69(2).