John W. Ditzler, M.D.*
1976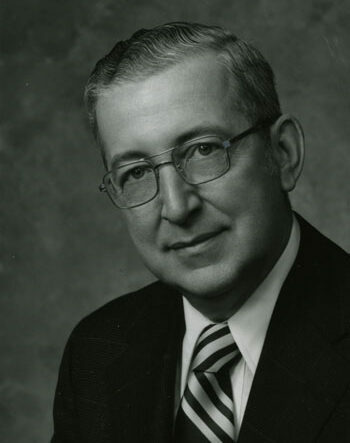 JOHN W. DITZLER, M.D.
John W. Ditzler, M.D. was installed as President of the American Society of Anesthesiologists at
the final meeting of the 1975 ASA House of Delegates on Wednesday, October 15, during the
ASA Annual Meeting in Chicago.
He succeeds Dr. Frank Moya, Miami Beach, who held office during the past year.
Dr. Ditzler is Chief of Staff, VA Lakeside Hospital, Chicago, and Associate Dean and Professor
of Anesthesiology, Northwestern University Medical School. He is also consultant in anesthesia,
Great Lakes Naval Hospital, North Chicago, Illinois.
Dr. Ditzler was appointed Northwestern Professor in 1966. Prior to that, he was Assistant
Director, Department of Anesthesiology, Henry Ford Hospital, Detroit, where he was also
Medical Board Secretary and Chairman of the Pharmacy Committee.
Dr. Ditzler has served as consultant to the Medical Division of the United Presbyterian Church,
and has made medical inspection trips for the church to India in 1962 and to Iran in 1965.
Born in Frederick, Maryland, Dr. Ditzler received his B.A. degree from Gettysburg College,
Gettysburg, Pennsylvania, in 1941 and his M.D. degree in 1944 from Temple University Medical
School, Philadelphia. He took a rotating internship at York Hospital, York, Pennsylvania,
followed by a general medical residency there. He took his residency in anesthesiology at the
University of Pittsburgh and the University of Pennsylvania.
In 1946-48 and 1950-52, Dr. Ditzler was a U.S. Army medical officer, during which time his
posts included those of District Physician, Panama Canal Health Department, and Chief of
Anesthesia and Operating Rooms, Valley Forge General Hospital, Phoenixville, Pennsylvania.
Dr. Ditzler has served the ASA as Assistant Treasurer from 1965-68, as Treasurer from 1968-73
and as First Vice-President in 1974.
He is a Diplomate of the American Board of Anesthesiology, a Fellow of the American College
of Anesthesiologists, and a member of the Illinois Society of Anesthesiologists, the International
Anesthesia Research Society, the American Medical Association, and the Chicago Institute of
Medicine.
ASA Newsletter. 1975;39(11).