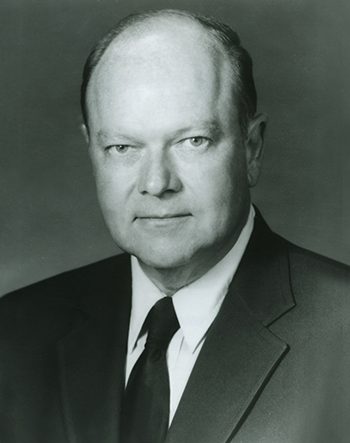 HARRY H. BIRD, M.D.
Harry H. Bird, M.D. was installed as President of the American Society of Anesthesiologists
during ceremonies at the 1987 ASA Annual Meeting, which was held October 10-14 in
Atlanta, Georgia.
Dr. Bird has served the Society as President Elect, First Vice President, Treasurer, and
Assistant Treasurer. Since 1969, he has been a member of the ASA Board of Directors, a
member of the House of Delegates, and has served on a number of ASA Committees,
including Medical Schools, Scientific Affairs, Bylaws, Planning, Continuing Education, and
Self-Education and Evaluation Program.
For 11 years, Dr. Bird was Chairman of the Department of Anesthesiology at the Dartmouth
Hitchcock Medical Center, and is Professor of Clinical Anesthesiology at the Dartmouth
Medical School, President and Chairman of the Board of Hitchcock Clinic, and President of
the Hitchcock Foundation.
Dr. Bird has served the New Hampshire-Vermont Society of Anesthesiologists as Vice President
(1970-72) and as President in 1974.
He was also Secretary of the American College of Anesthesiologists (ACA), and a
member of the ACA Board of Governors. In addition, he has been a Director of the
American Board of Anesthesiology and served as its President in 1982. Dr. Bird is a member
of the American Medical Association, and has served as a member of the New Hampshire
Medical Society House of Delegates, the New Hampshire Foundation for Medical Care
Board of Directors, and as Secretary-Treasurer of the Grafton County Medical Society.
Dr. Bird received his M.D. degree from Tufts University School of Medicine, Boston.
He completed his internship at the U.S. Naval Hospital in Chelsea, Massachusetts, and at
the Children's Hospital Center, Boston.
Dr. Bird is also active in community affairs. He has served as a selectman of the town of
Hanover, and has been the town moderator since 1976.
ASA Newsletter. 1987;51(12).