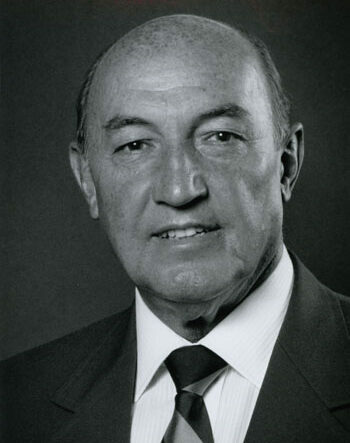 JACK MOYERS, M.D.
Jack Moyers, M.D. was installed as President of the American Society of Anesthesiologists at
the final meeting of the 1977 ASA House of Delegates on Wednesday, October 19 during the
ASA Annual Meeting in New Orleans, Louisiana.
He succeeds Dr. Richard Ament, Buffalo, New York, who held office during the past year.
Dr. Moyers is Professor of Anesthesia at the University of Iowa College of Medicine, Iowa City.
Dr. Moyers was born in Sidney, Iowa and received his B.A. Degree in 1943 and his M.D. Degree
in 1945 from the University of Iowa. He served his residency in Anesthesiology at the University
Hospitals in Iowa City, Iowa. He has been a University of lowa faculty member since 1951.
Dr. Moyers has served as a member of the House of Delegates, as Chairman of the Committee
on Communications, and of the Section on Clinical Care, as Vice President for Scientific Affairs
in 1973 and 1974, as first Vice President in 1976 and President Elect in 1977.
Dr. Moyers is a Diplomate of the American Board of Anesthesiology, a Fellow of the American
College of Anesthesiologists, and has served as a member of the ACA Board of Governors. He is
a member of various medical societies, including the International Anesthesia Research Society,
the Scandinavian Society of Anesthesiologists, and the Association of University Anesthetists.
ASA Newsletter. 1977;41(11).