James F. Arens, M.D.
1989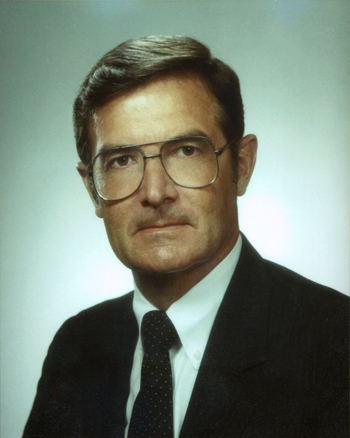 JAMES F. ARENS, M.D.
James F. Arens, M.D. was installed as President of the American Society of Anesthesiologists
during ceremonies at the 1988 ASA Annual Meeting, which was held October 8-12 in San
Francisco, California.
Dr. Arens has served the Society as President Elect, First Vice President, and Vice President
for Scientific Affairs for three terms and, in 1981, he was the Chairman of the
ASA Annual Meeting. Dr. Arens has also served on the Board of Governors of the American
College of Anesthesiologists. He is a member of the Accreditation Council for Graduate
Medical Education and a former Director of the American Board of Anesthesiology.
Currently, Dr. Arens is Professor and Chairman, and holds the Rebecca Terry White Chair
in Anesthesiology at the University of Texas Medical Branch in Galveston. The James F.
Arens Chair in Anesthesiology was recently funded by the senior faculty of the
anesthesiology department. In addition, he serves as President of the Private Practice
Plan and Chairman of the Intensive Care Unit Advisory Committee at the University.
Dr. Arens' professional affiliations include: the Texas Society of Anesthesiologists, the Society
of Critical Care Medicine, the Southern Medical Association, the International Anesthesia
Research Society, the Association of University Anesthetists, the Society of Cardiovascular
Anesthesiologists, and the Southern Society of Anesthesiologists, of which he was President in
1972 to 1973.
In 1982-84, Dr. Arens served as Chairman of the Joint Committee on Critical Care Medicine.
Dr. Arens has served as President of both the Louisiana Society of Anesthesiologists in 1971 to
1972 and the Society of Academic Anesthesia Chairmen in 1979.
Dr. Arens received his M.D. degree in 1959 from Creighton University in Omaha, Nebraska,
and completed his residency at Charity Hospital, New Orleans.
ASA Newsletter. 1989;53(1).