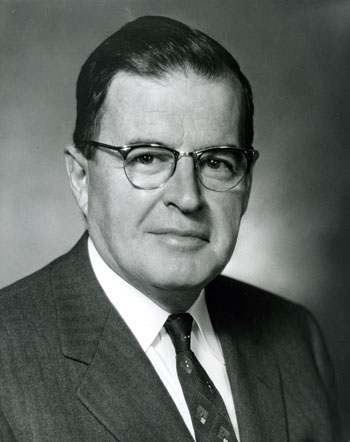 LEO V. HAND, M.D.
Dr. Leo V. Hand of Newton Highlands, Massachusetts became President of the ASA at the close
of the 1959 Annual Meeting of the House of Delegates held in Miami Beach, Florida.
Born in Providence, Rhode Island, Dr. Hand received his undergraduate training at Brown
University in Providence. His medical degree was received from Temple University School of
Medicine.
Dr. Hand has been President of the New England Society of Anesthesiologists and of the
Massachusetts Society of Anesthesiologists. Prior to his becoming President Elect of the ASA he
served as Delegate, Director and Second Vice President. He participated in the activities of many
ASA Committees and on Committees of his local Medical Societies. He is a Fellow of the
American College of Anesthesiologists and a Diplomate of the American Board of
Anesthesiology. Since 1947 he has practiced anesthesiology at the New England Deaconess
Hospital of Boston where he is head of the Department of Anesthesia.
The Society is indeed fortunate to have as its President during the coming year a man with such
an extensive background and understanding of the Society's affairs.
ASA Newsletter. 1959;23(11).