Oliver F. Bush, M.D.*
1964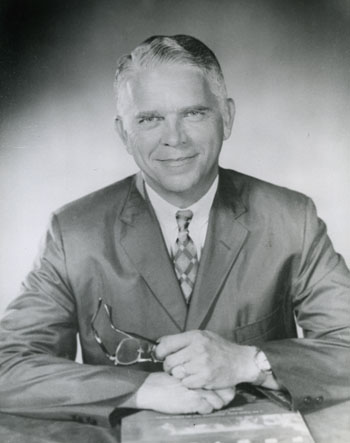 OLIVER F. BUSH, M.D.
Dr. Oliver F. Bush, Dallas, Texas, was installed as President of the American Society of
Anesthesiologists at the close of the Society's 1963 Annual Meeting.
Dr. Bush is Director of Anesthesiology at the St. Paul Hospital in Dallas and Associate Clinical
Professor of Anesthesiology at the University of Texas Southwestern Medical School.
He received his medical degree from the Emory University School of Medicine in Atlanta,
Georgia, and took his internship at the Metropolitan Hospital in New York.
After serving in the U.S. Air Force as a flight surgeon during World War II, rising from first
lieutenant to major, Dr. Bush located in Menard, Texas. Three years later, in 1949, he began his
residency at Charity Hospital in New Orleans, Louisiana.
Dr. Bush's election to the presidency of the ASA is the culmination of an active career in both his
practice and in the advancement of the specialty, through his energetic service to his state and
national societies.
An active member of the Texas Society of Anesthesiologists, Dr. Bush has served the ASA also
as a Director, both a First and a Second Vice President, Chairman of the Public Relations
Committee, and a Member for four years of the Committee on Standardization of Equipment.
He is a Diplomate of the American Board of Anesthesiology, Inc., and a Fellow of the American
College of Anesthesiologists.
ASA Newsletter. 1963;27(12).