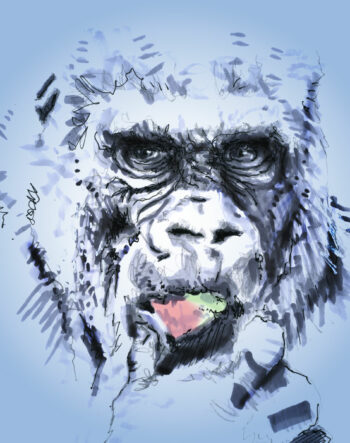 Jenny was a Western lowland gorilla, who lived to be the oldest gorilla in captivity. Her long life of 55 years was due to the good care she received at the Dallas Zoo, particularly her medical care.
Dr. A.H. "Buddy" Giesecke (1932-2011), long-time member of the Board of Trustees of our Wood Library-Museum, had a long and distinguished career as an anesthesiologist, educator, and scholar/historian, serving as Professor of Anesthesiology at the University of Texas Southwestern Medical School in Dallas. He had worked on famous patients before – at Parkland Memorial Hospital in Dallas on November 22, 1963, he was one of several physicians who took part in the attempted resuscitation of President John F. Kennedy.  Later that same day, he anesthetized Texas Gov. John Connally for exploratory surgery.
Another famous patient was sent Dr. Giesecke's way when he was contacted by the veterinarian of the Dallas Zoo on June 21, 1965. Jenny, who at that time was 11 years old, 4 ½ feet tall, and 225 lbs., was suspected of having bowel obstruction. The vet wisely predicted that a patient of Jenny's size and weight should be under general anesthesia for diagnostic tests as well as treatment.
Listen to Dr. Giesecke's recollection of treating Jenny, in this audio presentation "A MOST INTERESTING PATIENT: THE PRESIDENT'S ADDRESS," delivered while he was president of the Southern Society of Anesthesiologists at their Annual Meeting in March, 1972. Humorous, touching, and fascinating, Dr. Giesecke fully describes the anesthetic management and ultimate treatment of "an extremely uncooperative patient."
1972 Audio-Digest Foundation.
This audio recording was recorded at the 1972 Annual Meeting of the Southern Society of Anesthesiologists, held in New Orleans, March 16-18, 1972, and.is reproduced here by permission of the Audio-Digest Foundation and by permission of Dr. N. Martin Giesecke, son of Dr. A. H. "Buddy" Giesecke.