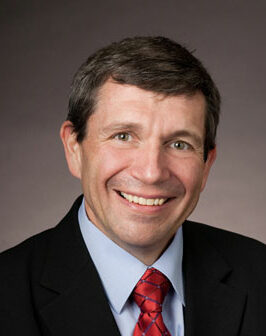 The WLM is pleased and honored to induct the 2012 Laureate of the History of Anesthesia, Douglas Richard Bacon, M.D., M.A. at 12:40 p.m. on Tuesday, October 16, 2012 in West Salon I in the Walter E. Washington Convention Center immediately prior to the Lewis H. Wright Memorial Lecture in Washington, DC.
Dr. Bacon was born on January 28, 1959 in Buffalo, New York, in the United States and went to college at the State University of New York (SUNY), Buffalo, where he received a Bachelor of Arts degree in History with departmental honors as well as the Bachelor of Science degree in Medicinal Chemistry, both cum laude. He was inducted into the Phi Beta Kappa honor society and continued his education by receiving an M.D. at SUNY at Stony Brook in 1985.
Joining the faculty at SUNY at Buffalo, he won teaching awards and rose to the position of Vice Chair for Education in 1998-2000. He was also Chief of the VA Anesthesiology Service and Manager of that service from 1995-2000.
Thereafter, he left Buffalo for Rochester, Minnesota, to become a Senior Associate Consultant at the Mayo Clinic. He was promoted to full Consultant in 2003 and served as Vice Chair for Faculty Development from 2008-12.
He recently accepted the position of Chair, Department of Anesthesiology at Wayne State University School of Medicine in Detroit, Michigan, following in the footsteps of his friend and colleague Dr. H. Michael Marsh. During his illustrious academic career, he received an M.A. in History from SUNY at Buffalo and mentored more than 17 medical students and residents, inspiring them to dozens of publications and presentations.
He was key in organizing many of the Annual Spring Meetings of the Anesthesia History Association, where he also served as President from 2006-2010, and served on organizing committees for the International Symposium on the History of Anaesthesia three times, as well as History sections for the World Congress of Anaesthesiologists. As a very active Trustee of the WLM from 1996-2008, he served as Secretary-Treasurer and on multiple committees, notably the Archives, for which he was Chair from 1996-2008. He also collaborated with the American Association for the History of Medicine, chairing the Clinician Historian Committee (1996-1999) and the Osler Medal Committee (2009).
In addition, his prodigious work as ASA NEWSLETTER Editor has brought historical insights into current-day problems in his monthly column ?From the Crow?s Nest.?
He has more than 70 peer-reviewed publications, most dealing with historical questions ranging from the organization of the specialty of anesthesiology, to biological warfare, to professionalism as seen in our history. He has been an invited visiting professor over 20 times to institutions across the country and he has made friends around the world. Wherever the history of anesthesiology in the United States is discussed, Dr. Bacon is the first name to be mentioned. His eponymous lectures include:
| | |
| --- | --- |
| 2001 | Crawford W. Long Lecture, Georgia State Society of Anesthesiologists Winter Meeting, Atlanta, Georgia: ?The Great Triumvirate: Paul Wood, Ralph Waters, John Lundy and the Formation of the American Board of Anesthesiology.? |
| 2005 | Lewis H. Wright Memorial Lecture, American Society of Anesthesiologists Annual Meeting, Atlanta, Georgia. ?From The Crow?s Nest ? Reflections On 100 Years of ASA History.? |
| 2006 | Kenneth Keown Memorial Lecture, Department of Anesthesiology, University of Missouri, Columbia: ?The First Century of the American Society of Anesthesiologists!? |
| 2006 | SEA McLeskey Lecture, Society for Education in Anesthesia Meeting, Chicago, Illinois: ?The Future of Academic Anesthesiology.? |
| 2011 | Blessed Chloroform Lecture, History of Anaesthesia Society Meeting, Edinburgh, Scotland: ?James Young Simpson ? the Justification for Anesthesia and an Interesting ?American? Book.? |
Dr. Bacon?s enthusiastic embrace of both history and medicine and his remarkable continuing productivity serve as an inspiration to his colleagues, his trainees, his friends and indeed the entire world. He is eminently worthy of Dr. Greene?s vision of the Laureate position as a person of singular contributions and continuing outstanding scholarship to the field of anesthesia history.